Matress Removal Company
JM Junk Removers is a junk removal company that does mattress removal and disposals. Our team will take care of everything from start to finish, so you don't have to worry about anything!
Instant Service Quote
Tell Our Team What You Want Gone!
214-888-5865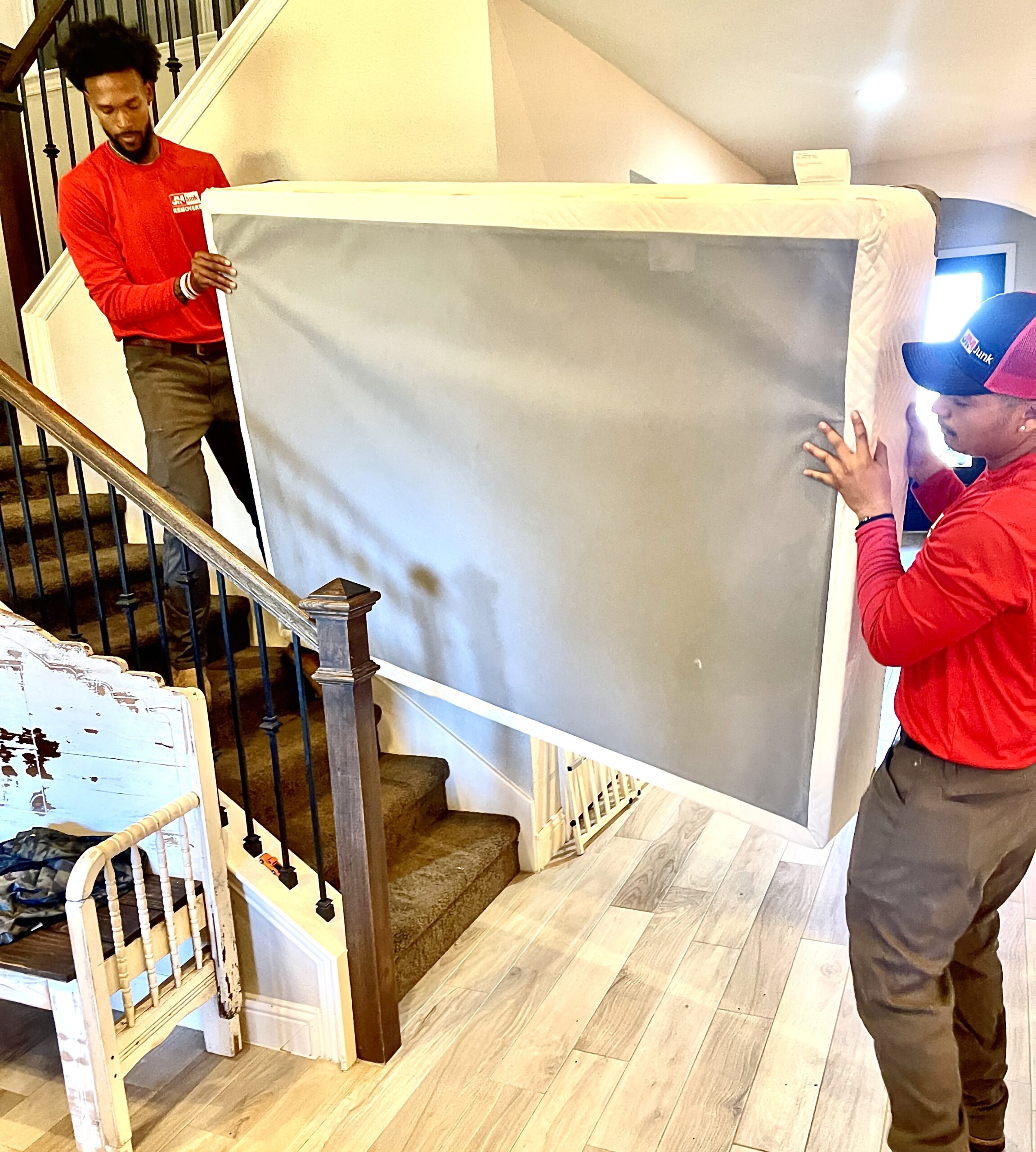 Learn More About JM Junk Removers
JM Junk Removers is the best choice for your mattress disposal needs. We are a professional, eco-friendly junk removal company that can help with all of your mattress, furniture, dresser, piano, TVs, and appliance disposal needs. Our team will remove any items from anywhere on your property! We're also fully licensed and insured to ensure our services are always safe and legal.
You won't find another junk removal service like us in Texas. Depending on the day, we can offer same-day service. We always offer flexible scheduling options, and we have a 100% customer satisfaction policy guarantee. Call us now at 214-888-5865 to schedule an appointment and get a free estimate on your next mattress removal project.
⭐⭐⭐⭐⭐
"I had an AWESOME experience! I contacted JM Junk Removers for an estimate on having a queen bed set removed from my storage unit after finding them online and reading the positive reviews from past customers. After describing the items i needed removed i was provided a reasonable estimate and set a date for the haul. the day came and the whole thing went perfectly! Josh arrived early and was able to load the items on his trailer in less than an hour i believe. he was also kind enough to help me move some of my other items back into place and put air in my dolly tires! What a kind and positive person. I am glad I went with his company and would recommend him to others looking to have items removed! Thanks Josh for all your help!" – L. Mitchel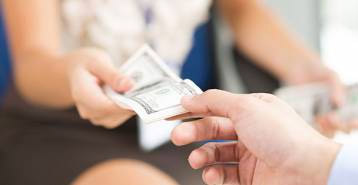 Getting Rid Of Your Mattress – Pricing
Getting Rid Of Your Mattress
When it comes to mattress removal company pricing, there are a few things to consider. The first is the size of the mattress. The second is the distance that needs to be travel. The third is whether or not there are stairs involve in the move. The fourth is the amount of labor involved.
Some companies will charge a flat fee for a certain size mattress, regardless of how far it needs to be moved. Others will charge by the mile. And still others will charge based on the amount of labor required. JM Junk Removers charges based on a mix of factors including the accessibility of the property and the amount of junk that needs to be hauled off. On our pricing page, it explains how we charge based off of the truck load. If you are looking for a mattress removal estimate, reach out to us by giving us a call at 214-888-5865 or contacting us online.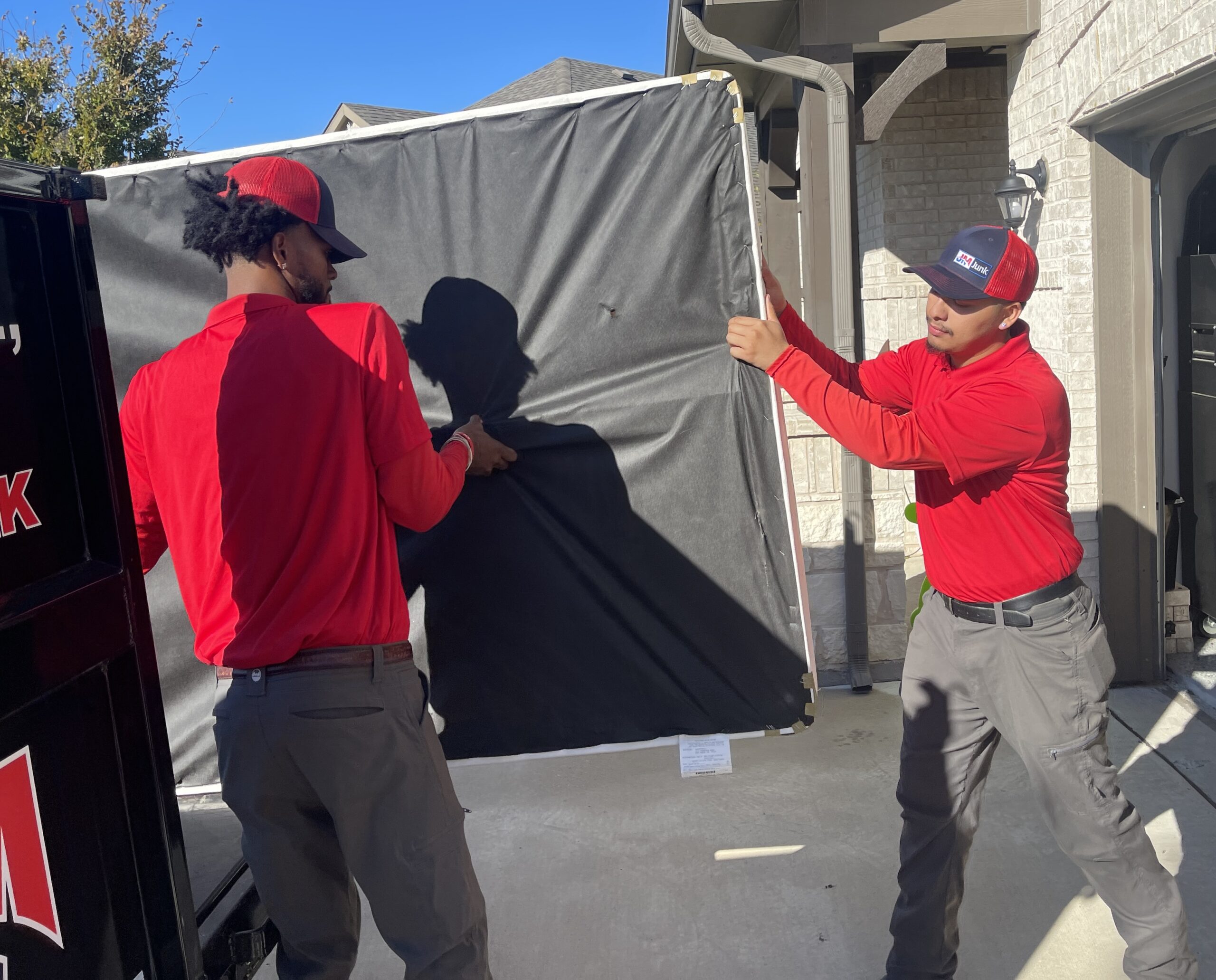 Mattress Removal Company – Contact Us Today!
Mattress Removal
Our 5-star junk removal company strives to make your life as easy and hassle-free as possible. We aim for a service that goes beyond the removal of unwanted items, providing you with a great experience! Our 500+ customer reviews prove how committed we are to achieving this goal by meeting all expectations from start to finish.
You can reach JM Junk Removers any time of day by calling us or contacting us online and we'll get back to you ASAP!
Also, we love texting, send us pictures of your junk and we might be able to quote you over the phone: 214-888-5865.
Book Online Now
To Save $20
Book Online Now
To Save $20
Our Mattress Removal Process For Texans!
If you have an unwanted mattress lying in storage or around the house and you're ready to get rid of it, we don't blame you! Mattresses can be tough to dispose of properly so it's important you leave it up to the professionals to help! Get rid of your old mattress and make way for new space!
Reach JM Junk Removers by phone, text, or email.
We'll give you an estimate or set up a no-obligation in-person consultation.
We'll notify you 30-60 minutes before arrival on the day of the job.
We'll get to work!
Local Junk Removal & Hauling Services