Your Local Junk Removal, Demo, and Clean-out Company Serving Dallas, TX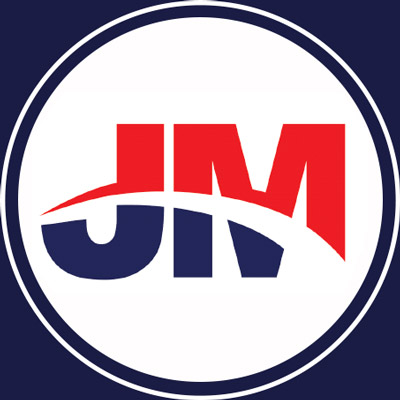 FREE ESTIMATES
At JM Junk, we believe in honest, upfront pricing. Give us a call or text us a picture of your items and we will be happy to give you a free, no obligation estimate. You'll find our service awesome and prices that are quite reasonable.

Hire someone you can trust. Our goal is to be the most transparent and trustworthy company in town.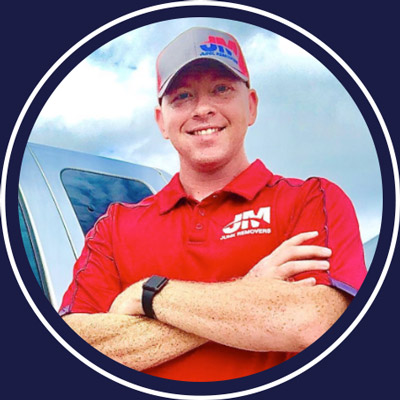 FAST & FRIENDLY
We understand your life may be busy and so we make a big point of getting over to your location quickly, doing the job fast and letting you get back to your busy schedule.

We also understand that friendly, professional service with a smile can be just as important. Every member of our team knows that our job is to make you happy and to get the job done as quickly as possible.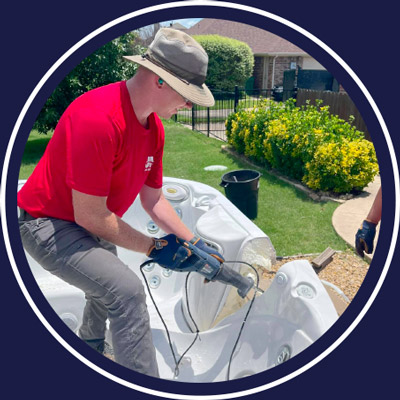 WE MAKE IT EASY
We believe making junk removal, cleanouts and demolition as easy as possible for our clients. With this in mind, we will give you a free, upfront estimate. We will show up at the scheduled time, do the job quickly, quietly and professionally.

If there is anything we can do to make the process easier please let us know. We want to make this a very easy process for you.
Our Mission
Our mission is to assist you in all of your junk removal needs! Whatever the situation is, we will be as accommodating and flexible as needed for your unique situation. From first contact to final payment, we will strive to make your junk removal process as seamless and efficient as possible. To go over details or get more information call or text 214-888-5865 or contact us via email to go over those details. We're looking forward to helping you get rid of all your unwanted items!
We are a locally-owned business focused on great customer service and we do our best to donate to local charities and recycle whenever possible.
Have a question about our services In junk removal or demolition? Want to see if your junk removal or demolition project is one JM Junk can help with? To get a free quote, or if you have questions or special requests, just drop us a line. We look forward to taking your junk!
How Our Junk Removal Service Works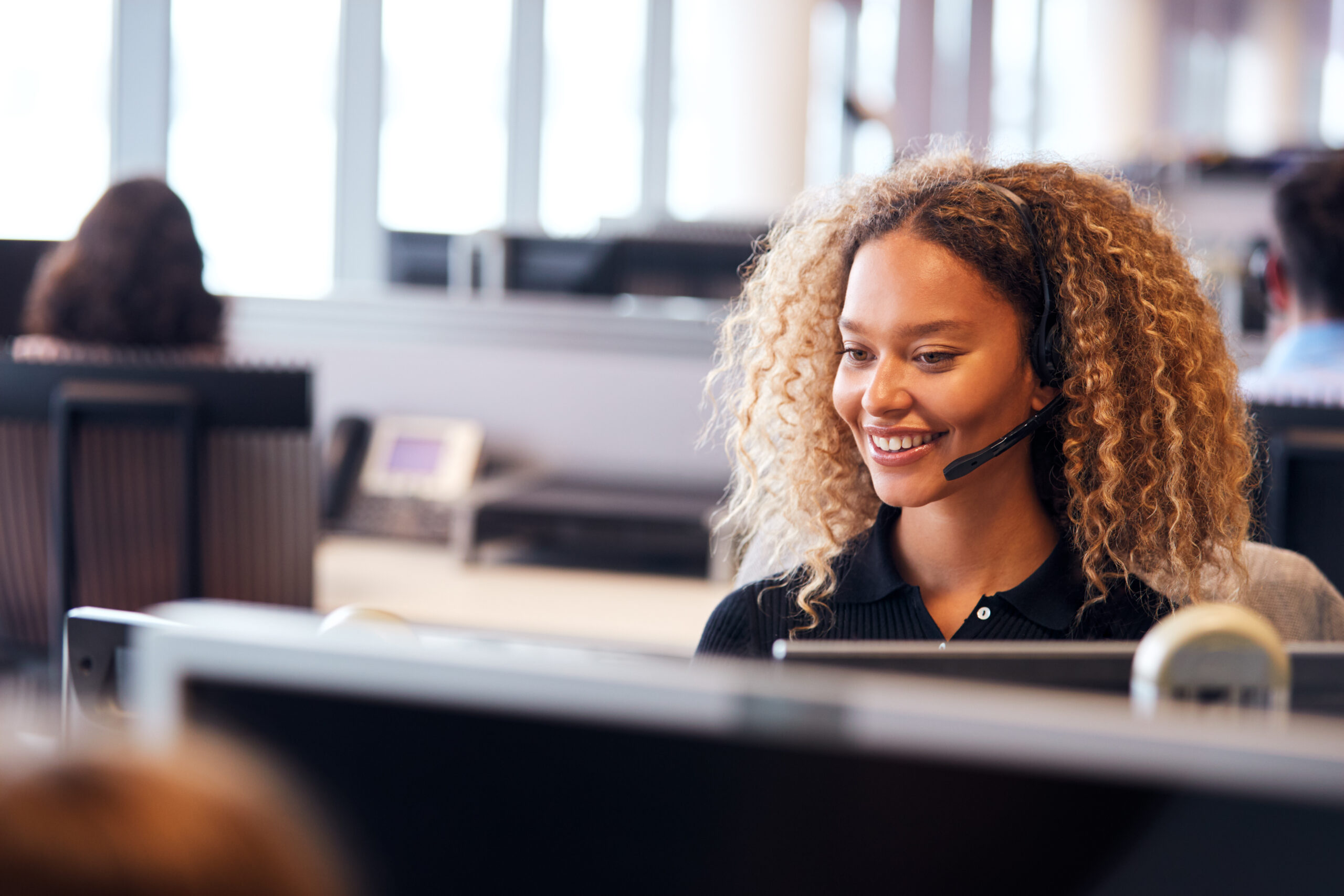 Call to get on our schedule.
Booking with us is easy! You can fill out our request form or call/text 214-888-5865!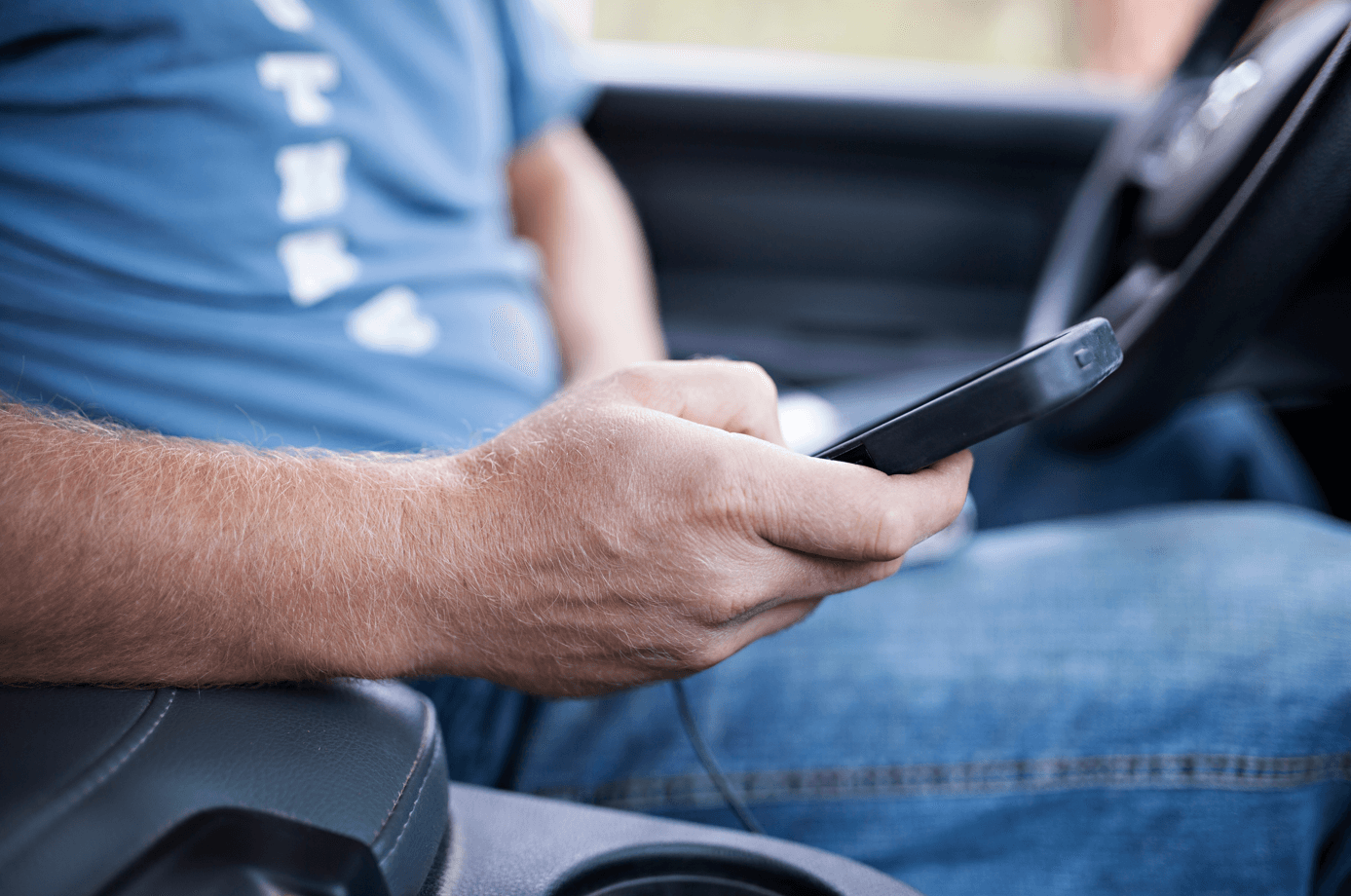 Crew will call around 30 minutes from arrival within the selected 2 hour window.
You will know exactly when we arrive with a 30-60 minute advanced call and text upon arrival!
Once the crew arrives show them everything you want gone.
When we get onsite all you have to do is point at what you want gone. The crew will provide a price and all you have to do is give the green light and we will get to work!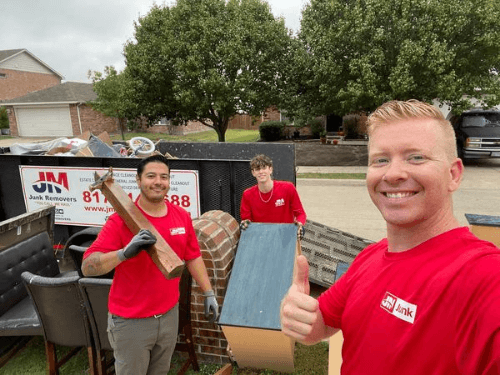 As we load everything up we take special care of your property
Once we get started the crew will be highly respectful of your property and will take extra care to prevent any accidents or mistakes as were loading your items up. When were all done we will sweep and clean up too!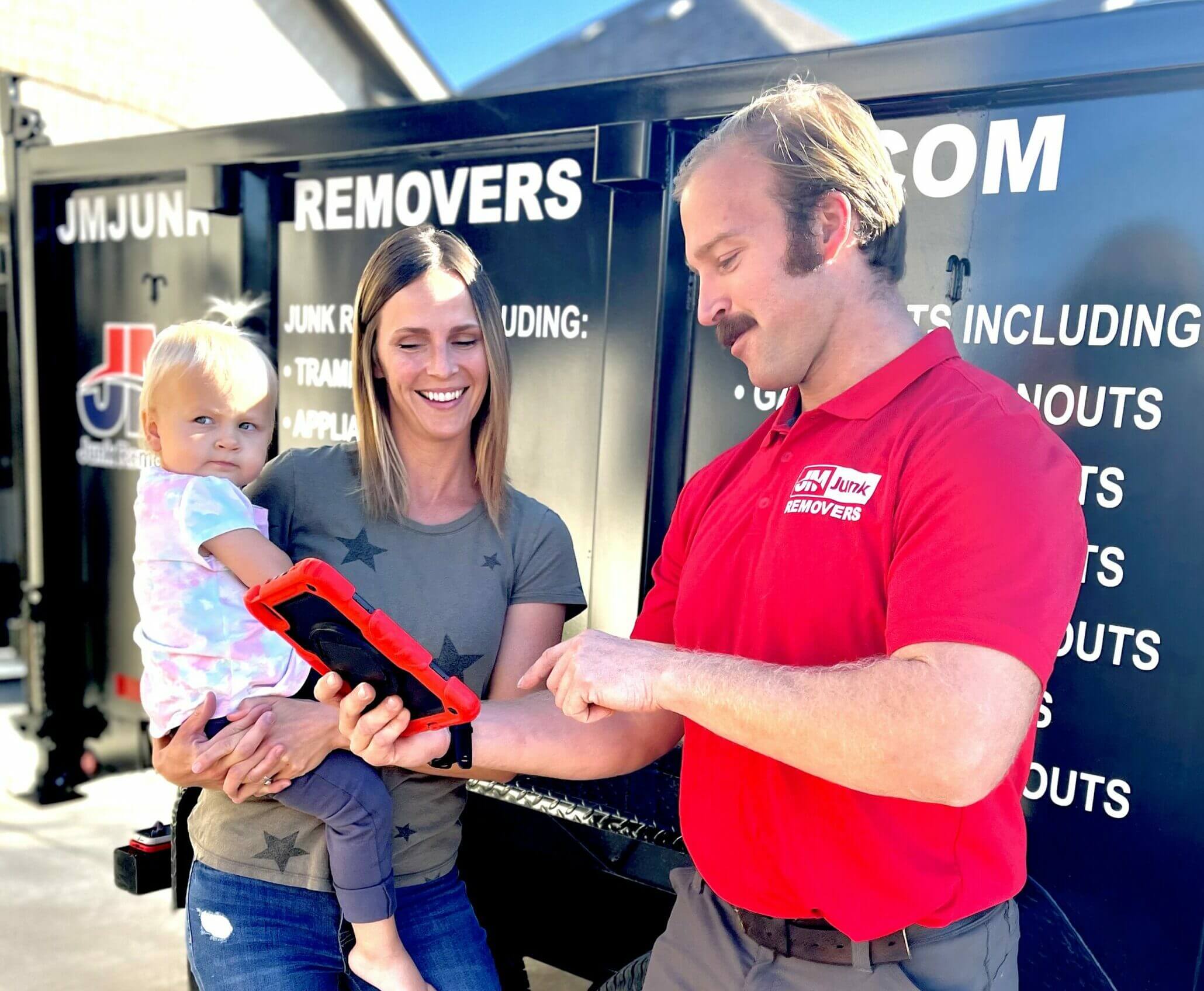 At the end of the job we will text you your invoice for payment
Payment is easy! We accept all cards and cash. At the end of the job we will text you a link that allows you to enter in any card of your choice for payment!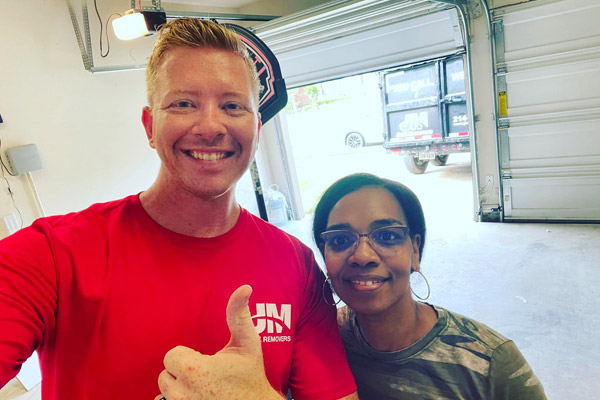 By the end we hope to have made one more raving fan for JM Junk Removers!
As we leave we will send you a link to leave us a review! We strive to provide exceptional service and love it when customers take the extra time to leave us a 5* review.
Dallas Counties JM Junk Removers Provides Service To: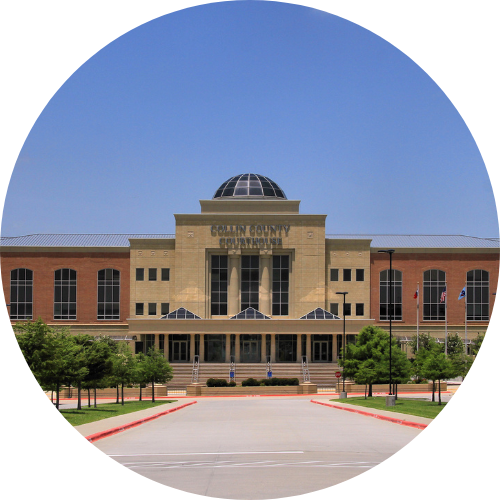 Collin County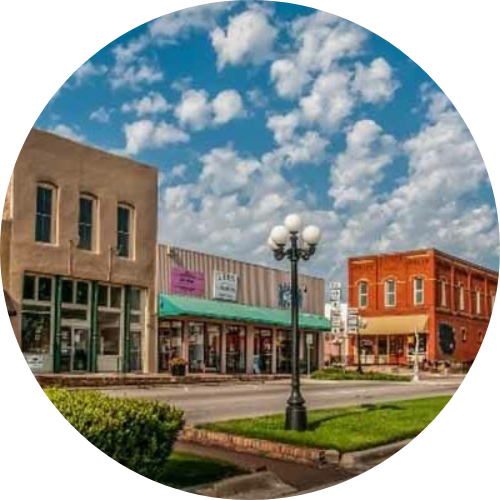 Rockwall County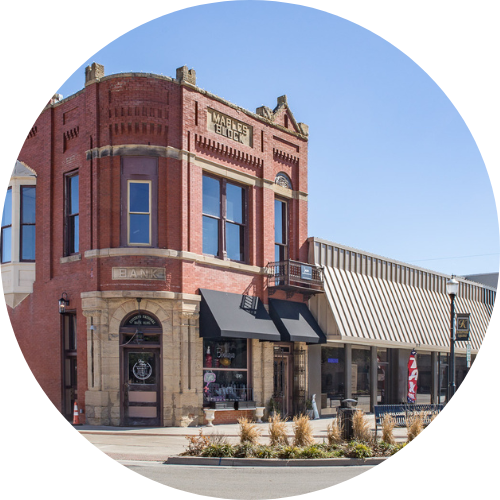 Kaufman County
Dallas County
Dallas, Highland Park, Richardson
Frequently Asked Questions
Does Your Company Offer Same-Day Junk Removal Service?
Yes, our team of professionals provides same-day removal services when available. Please contact us directly to discuss availability and pricing.
Is Your Staff Licensed & Insured?
We understand that many people are concerned about their safety when it comes to hiring professionals for junk removal services. That's why we take pride in being able to assure our customers that all of our team members are licensed, insured, and trained according to industry standards. Our team's experience ensures that they can handle even the toughest clean-up job with ease – whether it be furniture or appliance removal, construction debris cleanup, or yard waste disposal. We guarantee 100% customer satisfaction at JM Junk Removers!
What Kind Of Items/Junk Can You Remove?
One of our slogans is "We Haul it All!" and we mean it! From single items like a Fridge Removal, an Estate cleanout, Garage cleanout, Trampoline disassembly and hauloff, Shed demo, etc we have you covered! If there's hazardous materials we may be restricted on those due to state and federal regulations but as long as you don't have something like nuclear waste we should be able to take care of it for you!
At JM Junk Removers, we have developed a streamlined and efficient process from first contact to final payment our goal is to alleviate all stress and worry that comes with hiring a contractor.
First step is contacting us to get on the schedule! After that the crew arrives at that determined 2 hour arrival window. You show them all the work that needs to be done, once the situation is fully understood the crew will provide a quote and will be able to handle it right then and there!
Once we finish removing your unwanted items, we'll sweep up the area to leave it tidy and presentable. Finally, we'll text you a detailed invoice that allows you to pay with any card of your choice!
The whole process is as simple as that! We want every customer to be raving fans of how simple and stress free the process is to get rid of all your items!
Do You Provide Residential & Commercial Cleanouts?
Absolutely! We offer both residential and commercial cleanouts at JM Junk Removers. Our comprehensive services cover a variety of junk removal needs, ranging from furniture and appliance removal to construction debris cleanup and yard waste disposal. Our licensed, insured, and friendly team is here to ensure that your cleanout job is completed quickly and efficiently.
Do Junk Removal Companies Recycle?
Yes! At JM Junk Removers we recycle anywhere from three thousand to ten thousand pounds of metals every week! Not all junk removal companies do this but we see it as our obligation to separate and sort all we can to help keep as much as we can out of the landfill. If you have any questions or have a lot of items that may be recyclable or denotable click here or call 214-888-5865 to contact us!
How Much Does Junk Removal Cost
Our General pricing depends on the volume of items you're getting rid of. You only pay for the space you take up in our trailers! Our starting price point for a single item starts at $85 for a single item and goes up from there based on volume!
Are There Any Hidden Costs In Junk Removal
Not When you go with JM Junk Removers! Some companies may use bait and switch tactics by giving a low price over the phone but highly increasing once onsite. JM Junk Does not believe nor use these tactics. We pride ourselves on our exceptional customer service
---