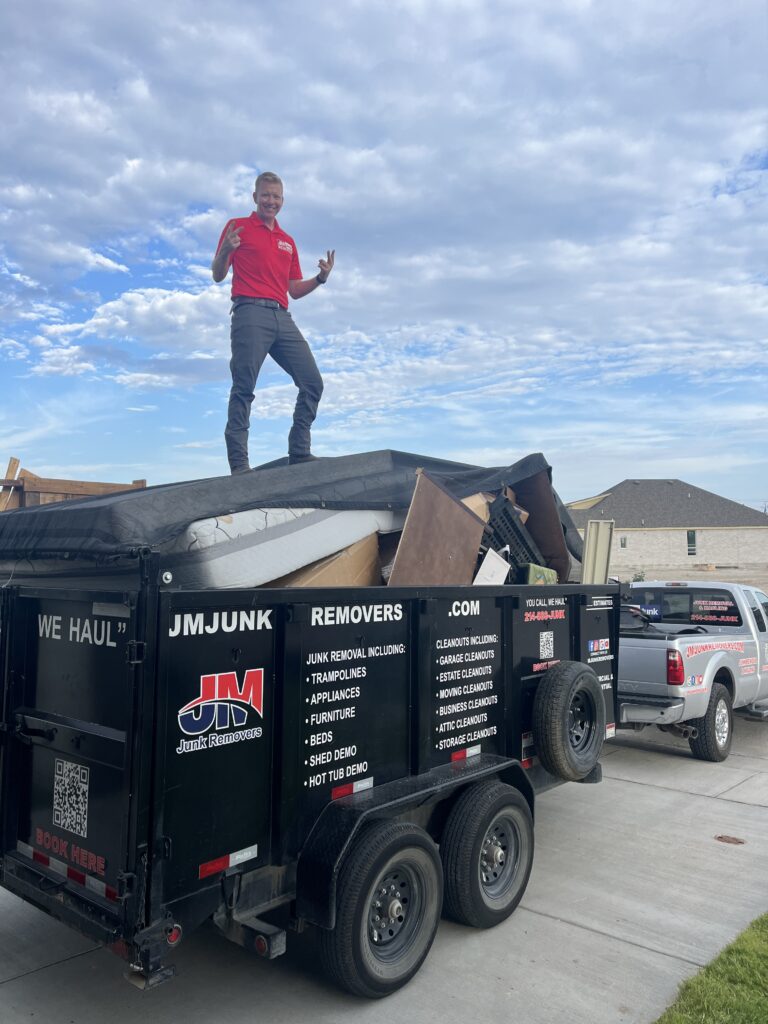 A full load after completing a morning of Dallas junk removal.
Dallas Junk Removal
In Dallas, junk removal fills a need that everyone in the metroplex has. There are over 1.2 million people in an area of 385.8 square miles. With Dallas being the fastest growing metro area in the US, there is always someone needing one of the many services a junk removal specialist provides. From general household items to moving cleanouts, there is always a need! If you need junk removal in Dallas, JM Junk Removers is the only answer! Our technicians come ready to complete your junk removal, demolition and removal, clean out, appliance removal, or furniture removal. No matter the size of the job or great need for Dallas junk removal, each customer receives the same higher standard of care without the long wait. Call JM Junk Removers at 214-888-JUNK to see what we can do for you.
What to Expect in Dallas Junk Removal
Our highly trained technicians are always ready for the job ahead! JM Junk Removers keeps our customers aware of our arrive window and we provide an ETA within the hour of arrival. We value our customers' time! Also our professionals complete all jobs in a timely manner while still being sure the job is completed properly. Because whenever you call JM Junk Removers you can be sure that we will get you scheduled within the timeline you are looking for. We offer same day, same week, and we can even schedule in advance. From start to finish, we value your time.
Upon arrival of our professionally trained technicians to your home or business, they will ask you to show them what needs to be removed. All you have to do is point! Our technicians can remove your furniture, appliances, and junk from any location, including your attic, basement, and all levels. They will come ready to protect your property and know how to properly handle your Dallas junk removal needs.
After you show them everything you need removed, or they see the project to be completed, they will give you an exact price. You can give them a thumbs up, and they will get to work. We will leave your property as we found it, minus your junk. JM Junk Removers will send you an invoice by text or email, depending on your preference. We will take the card of your choice, for your convenience. At JM Junk Removers, we make Dallas junk removal easy on you!
How We Get Rid of Your Junk in Dallas
JM Junk Removers offers services for every junk removal need found in Dallas. This includes office clean out, garage clean out, moving clean out, hoarder clean out, and estate clean out. Our goal to rid you of the stress that comes from junk lying around your home or business. By giving you back your garage, you can protect your vehicles from all the weather we see in Dallas. A decluttered office space will free your mind to better complete your daily tasks and allow you to feel good in your work space. We offer these cleanout services to give you back time, to save your energy, and to give you the benefits of a junk free space.
With all the wear and tear the Texas sun puts on our decks, pergolas, sheds, and outdoor swing sets, there is always a need for demolition and removal services from the Dallas junk removal specialist. At JM Junk Removers we train our technicians in the proper techniques to complete these demolition and removal projects. Our technicians know the proper way to protect their bodies and your property from any damage. You will save yourself from the strain and stress that comes from demolition, and the costs from disposal. JM Junk Removers has years of experience in demolition and removal. You can trust our experience to complete the job properly from start to finish.
Dallas junk removal requires disposal
You can count on us to properly dispose of your broken furniture, old appliances, yard debris, and general household junk. JM Junk Removers will properly dispose of your junk, by utilizing the proper facilities. Leaving you with no stress over where you might take your junk, yard debris, recyclables, or donation items. We take the stress and cost of disposal off our clients giving them time to focus on more important things.
One Call
Calling JM Junk Removers for your Dallas junk removal needs is all you have to do! It is that simple! We take on the work, giving you time for what's important to you. We free you from stress of overwhelming projects, clutter, and uncertainty of what to do with junk disposal. From start to finish, we value your time, respect your property, and provide five star customer service. You are one call away from being like many of our satisfied and loyal customers! You call, we haul! We take it all!
A Few Other Services We Provide
Local Junk Removal & Hauling Services